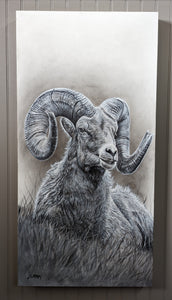 Living On The Edge (NEW Original Painting)
The art of Charlie Clark
Regular price $1,131.00 $980.00 Sale
Original Acrylic Paint & Charcoal Mountain Sheep Ram painting on 1.5 inch deep gallery canvas.
Created 2023
Bighorn sheep are, true to their name, a wild species related to the domestic sheep that humans have domesticated and cultivated for centuries. These sheep, however, are not simply placid grazers, but wild and untamed survivors who have thrived in North America since the Pleistocene. Bighorn sheep are named for their large, curved horns, some of which can weigh as much as 14 kilograms, while the animal itself can weigh as much as 230 kilograms (males at least; most females are far smaller, weighing around 90 kilograms), particularly in British Columbia. The bighorn sheep of British Columbia is the subspecies known as the Rocky Mountain bighorn sheep. This subspecies is hardier than most, surviving in cold temperatures its desert brethren couldn't handle and being perfectly built by nature to handle steep, rugged terrain as well as human climbers without the benefit of tools. The
animals graze on grass and shrubs and seek out natural salt licks to get minerals in their diet.
18x36 inches.
No framing necessary & comes wall ready with hanging wire installed.
Ships within 1-5 business days.