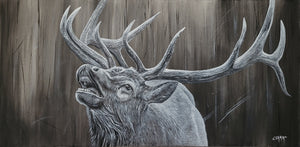 Mountain Music Bull Elk (15x30) Original Acrylic Painting
The Art of Charlie Clark
Regular price $901.00 $713.00 Sale
Original Acrylic painting on 1.5 inch deep gallery canvas.
Created 2022
15x30 inches.
From early September through October, bull elk can be heard bugling at twilight. This sound is made to advertise their fitness to cow elk and to show off to other bulls. Elk are most active before sunrise and after sunset but will bugle throughout the night as well. Peak activity occurs from the last half of Sept into early October and begins to decline at the end of the month.
No framing necessary & comes wall ready with hanging wire installed.
Ships within 1-5 business days.