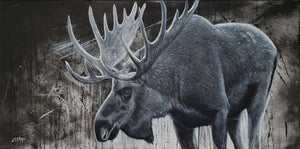 Sidetracked bull Moose (15x30) Original Acrylic Painting
The Art of Charlie Clark
Regular price $908.00 Sale
Original Acrylic painting on 1.5 inch deep gallery canvas.
15x30 inches
Created In 2022
Bull moose are well-equipped to fight. At up to 1,600 pounds they are enormously powerful. Their shoulders are huge, and during the rut, their neck muscles expand to twice their normal size. The skin on their foreheads is thick providing armor against punctures by opponents. In addition, they possess weapons and shields in the form of antlers—large, strong organs specifically designed for fighting. Antlers have sharp points attached to broad palms that can severely wound opponents, puncturing the body, injuring eyes, or bruising muscles.
No framing necessary & comes wall ready with hanging wire installed.
Ships within 1-5 business days.