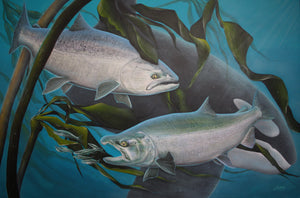 Tides & Tails Orca & Pacific Salmon (60x40) Original Acrylic Painting
The Art of Charlie Clark
Regular price $3,753.00 $2,177.00 Sale
Original Acrylic painting on 1.5 inch deep gallery canvas.
60x40 inches.
Created in 2022
Kelp forests provide important three-dimensional, underwater habitat that is home to hundreds or thousands of species of invertebrates, fish and other algae. Some species aggregate and spawn in kelp forests or utilize these areas as juvenile nursery habitat. Predatory species of salmon, Orca's, Sharks and marine mammals are known to hunt in the long corridors that form in kelp forests between rows of individual plants. 
Seabirds and marine mammals like sea lions and sea otters use them as shelter from predators and storms.
No framing necessary & comes wall ready with hanging wire installed.
Ships within 1-5 business days.